Brian Kelly Residency at DU, Presentation at The Hilliard, Appearance on PBS
Mon, 05/09/2022 - 1:56pm
In February, Professor Brian Kelly was a visiting artist at the University of Denver in Denver, Colorado. Kelly spent a week on DU's campus in the School of Art and Art History, where he worked in the printmaking studio and interacted with faculty and students. During his visit, Kelly produced a multicolored lithograph edition and silkscreen edition and gave printmaking demonstrations to the department's printmaking students. At the end of Kelly's visit, copies of his completed editions were retained by the School of Art Galleries to be placed in their permanent collection.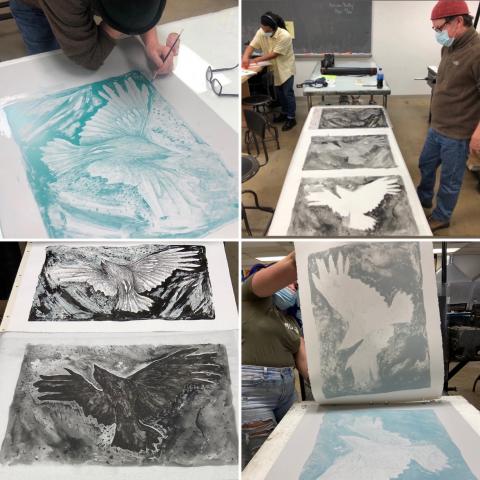 Kelly also co-presented with Kathryn Hunter, owner and master printer of Blackbird Letterpress, at the Hilliard Art Museum. The presentation included a lecture by Hunter that explored her fine art practice as well as her commercial work/ownership of the Blackbird Letterpress in Baton Rouge. The second portion of the presentation was a panel conversation with Kathryn Hunter, Professor Kelly, and Ben Hickey, Curator of the Hilliard Art Museum, centered on printmaking collaborations between Kelly and Hunter at the Marais Press.
Finally, Professor Kelly was included in the February episode of Gallery America, an Emmy-Award-winning television series that airs on the Oklahoma Educational Television Authority / PBS television channel. "Gallery America" focuses on the best in the arts from Oklahoma and around the nation. February's episode included Professor Kelly along with Mark Sission, Professor of Printmaking at Oklahoma State University.