You are here
News & Events
Top Stories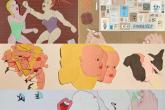 September 24th, 2019
The Department of Visual Arts welcomes animator Amy Lockhart. Amy Lockhart is a filmmaker, animator and artist. Her...
Read More ➝
August 26th, 2019
Aaron Coleman Visiting Artist at Marais Press,  Department of Visual Arts, UL Lafayette Aaron Coleman is an...
Read More ➝
August 24th, 2019
Introductions New Faculty Exhibition August 26 to September 26, 2019 Introductions is a group exhibition from the...
Read More ➝
View All News
Upcoming Events