Steven Breaux: "Waking Space"
Saturday, October 14, 2017 - 10:00am

to

Saturday, December 16, 2017 - 5:00pm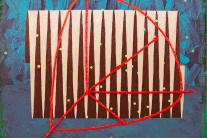 Steven Breaux, Professor of or Visual Arts at UL Lafayette, will have an exhibition of work entitled Waking Space that involves the merging expressions of art and science. The simple beauty of graphics, diagrams, and mathematical formulae are revealed as representations of thought and visualization that can carry subjective as well as objective information. Though most artists and scientist consider graphs and diagrams as the cast-offs of minds heading toward other endeavors, Breaux reveals in intrinsic richness and depth then combining a variety of visual information from art history, culture and eastern philosophy. Waking Space Will be on Exhibit at the Acadiana Center for the Arts October 14 – December 16, 2017.
Primary sponsor:
Department of Visual Arts
Directions:
Acadiana Center for the Arts
101 W. Vermilion St.
Lafayette, LA 70501
337.233.7060
Open Monday-Saturday
10:00am–5:00pm
Event target audience:
Faculty
General public
Staff
Students